TAKING YOUR CAT OUTDOORS HAS NEVER BEEN THIS COMFORTABLE!
Taking your cat outdoors gives them the freedom toexperience a whole new world outside your home!New smells. textures. and sounds to tick your curious catis always something experts would recommend.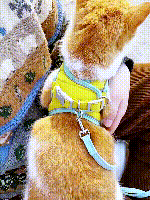 Training your cat to walk on a leash can be beneficial for you and your cat butputting a harness and leash on your feline and watch his inner tiger emerge isn't cool at all.Some cats will fall over or freeze when they feel the harness because it triggers a survival response that they would employ if grabbed by a predator.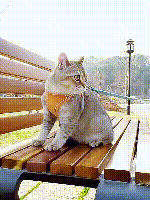 Cat Vest Harness and Leash Set to Outdoor Walkingis designed forcomfortableandenjoyablecat walking experience. Thebreathablemesh keeps your pet cool while minimizing the chance of hurting in case of pulling. The harness iseasy to puton and off with itsfast-release buckles.Simply slide the harness over your pet's head. adjust the straps. and you are ready to go!
Comfortable Padded Mesh Vest:No stress on pet's neck. no choking. perfectly designed for easy walking. jogging. running. hiking. or even training.
Great for Walking. Running. and Hiking:Breathable for all outdoor activities. hugs the pet with a flexible mesh that does not restrict your pet's natural movements.
Adjustable Belt:Designed to fit most dogs' and cats' body shapes.
38 mm nylon clasp to adjust and the seatbelt buckle to fix. to ensure pet not easy to escape. easy to wear and convenient to adjust.
The metal D buckle and traction buckle through exquisite craft are bright. not easy to rust. and durable.
Material: Polyester Canvas + Mesh fabric
Size Chart:
1 x Cat Harness and Leash Set
CUSTOMERREVIEW -MELODY
Nice quality material! Would definitely recommend!"
CUSTOMERREVIEW -EMILY
"So excited about this! The harness comes as it appears. quality appears well done. time will tell. Its quality is worth the cost itself!"
CUSTOMERREVIEW -ELLEN
"Love this harness for my baby!! He's wearing a large and it fits him perfectly! I hope he doesn't get any bigger. lol!"
CUSTOMERREVIEW -JACKSON
"I received my cute harness. This looks so lovely. I am happy to have received it fast. our walks will never be the same!"
CUSTOMERREVIEW -CHERYL
"This is one of the coolest leashes that we've ever had. Our kitty loves it and looks really cute. sooooo happy!!"
"It is a great harness. He barely pulls with it. but when he does the tension on the leash doesn't hurt my hand like it did with other harnesses. It is super soft and cushioned."
What size should I choose?
Don't worry if you don't know the weight of your cat.If you have a baby kitten - then choose the small size and if you have an adult cat - choose the medium or large size depending on the weight of your cat.We offerFREEexchanges.
OUR GUARANTEE
We truly believe we make some of the most innovative products in the world. and we want to make sure we back that up with a risk-free ironclad 30 day guarantee.
If you don't have a positive experience for ANY reason. we will do WHATEVER it takes to make sure you are 100% satisfied with your purchase.
Buying items online can be a daunting task. so we want you to realize that there is absolute ZERO risk in buying something and trying it out. If you don't like it. no hard feelings we'll make it right.
For more help, please feel free to contact us by e-mail. Once receiving your e-mail, our customer service representatives will respond within a business day. Thank you.
Email: hansellpatirica36@gmail.com

- Our Shipping Process
We package and ship your order as soon as possible within 24 hours, so we are unable to make any changes or modifications to an order after it has been placed.


Orders are subject to verification and approval before shipping and may take several days to process. While we will do all we can to ensure your order is delivered on time, Logistics cannot be held responsible for conditions beyond our control such as severe weather, service interruptions, etc.
Shipping details:
Estimated delivery time = processing time + shipping time (depending on your location)
Processing time:
3-5 business days
Shipping time:

Delivery Method
Delivery Time
Shipping Fee

DHL Express(Preferred)/Express Shipping

6-15

nature days

5.99

$ (SHIPPING OVER $62.99)

ePacket/Standard Shipping

10-20

nature days

FREE SHIPPING OVER $62.99
Costs incurred for returns
1. If it is because of the quality of our products, the buyer does not need to bear the freight
2. If it is not a product problem, the buyer shall bear the cost of returning the product
Taxes:
After the package arrives in the destination country, import taxes, duties, and related customs fees may be charged. These fees are determined by the customs of a particular destination.
Paying these fees and taxes is the responsibility of the recipient, and we are not responsible for paying these fees and taxes at Shop. For more detailed information about charges, please contact your local customs.
Notes:
1) The delivery time does not include the 3-5 days processing time required to process the order from the date of the order.
2) We will deliver your package as soon as possible. However, due to a lack of addresses and customs clearance issues, more time is required.
3) If your package has transportation problems, you should contact us to solve the after-sales problem within 28 days after receiving the message.
Any other questions, please contact hansellpatirica36@gmail.com

Our Privacy Policy
We promise that we will collect, use, process and store your data properly and securely.

We will:
- Use and maintain your personal data in accordance with all applicable legal requirements
- Inform you about what data we collect about you and how we use it
- Ensure that the privacy of your data is maintained
- Honour your legal rights in respect of personal data which we hold
We will not sell your data or transfer it outside of the hat-house to anyone to use for their own marketing purposes.
This Privacy Policy explains what personal data we collect about you, how and why we use it, who we disclose it to, and how we protect your privacy.
Privacy statement
References in this Privacy Policy to "Alonghemy", "we", "us" or "our" mean Alonghemy.
Collection and use of personal data
Personal data is information that can be used to directly or indirectly identify you. Personal data also contains anonymous data about information that can be used to directly or indirectly identify you. Personal data does not include anonymized or irreversibly combined data, so no matter if the data is combined with other information or in other ways, we will no longer be able to identify you.
Promote safety and security
We adhere to the principles of effectiveness, effectiveness, and transparency, use and process minimal data for limited purposes, and adopt technical and management measures to protect data security. We use personal data to verify active and active activities and to promote safety and security, such as by monitoring fraud and investigating suspicious or potentially illegal activities or violations of our terms or policies. Such processing is based on our legitimate interests in helping to ensure the safety of our products and services.
The following is a description of the types of personal data we may collect and how it is used:
What personal data do we collect
- Data provided by you:
When you use our products and services or interact with us in other ways, we collect the personal data you provide, such as when you create an account, contact us, participate in online surveys, use our online help or online chat tools. If you make a purchase, we will collect personal data related to the purchase. Data includes your payment data, such as your credit or debit card number and other card information, account verification information, and other identities, as well as billing, shipping, and contact information.
- Data about the use of our services and products:
When you browse our website, we may collect information about the type of device you use, the unique identifier of the device, the IP address of the device, the operating system, the type of Internet browser, usage information, and diagnostic information. And place the information computer, telephone or other equipment that you install or access our products or services around or around them. Our services may use GPS, your IP address, and other technologies to accurately determine the location of the device so that we can improve our products and services.
- How we use your personal data
In general, we use personal data to provide, improve and develop our products and services, communicate with you, provide targeted advertising and services, and protect us and our customers.
- Provide, improve and develop our products and services:
We use personal data to help us prepare, improve and expand our products, services, and advertising. This includes the use of personal data for data analysis, research, and control purposes. Such processing is based on our legitimate interests in providing products and services to you and business continuation. If you participate in contests or other promotional activities, we may use the personal data you provide to manage the plan. Some of these activities have additional rules, which may contain more data about how we use personal data, so we recommend that you read the rules carefully before participating.
- Communicate with you:
With your prior consent, we may use personal data to send marketing communications related to our own products and services, communicate with you about your account or transactions, and inform you of our policies and conditions. If you no longer wish to receive email communications for marketing purposes, please contact us to accept. When you contact us, we may also use your data to process and respond to your request. With your prior consent, we may share your personal data with third-party partners, and third-party partners may send you marketing communications related to their products and services. With your explicit consent in advance,
Note: any purpose please note that the specific cookies we may use vary depending on the specific website and service you use.
Disclosure of personal data
We provide certain personal data to strategic partners who work with us to provide our products and services or help us market to customers. We will only share personal data with these companies to provide or improve our products, services, and advertisements; without your prior explicit consent, we will not share it with third parties for their own marketing purposes.
Data disclosure or storage, transmission, and processing
Ⅰ. Fulfill legal obligations:
Due to the mandatory laws of the European Economic Area or the user's country of residence, certain legal actions exist or have occurred, and certain legal obligations need to be fulfilled. Processing of personal data of EEA residents-as described below, if you live in the European Economic Area (EEA), our processing of your personal data will be legalized: whenever we need your consent to process your personal data, this Such processing will be in accordance with Article 6(1) of the General Data Protection Regulation (EU ) ("GDPR").
Ⅱ. For the reasonable implementation or application of this article:
We may share personal data with all our affiliated companies. In the event of a merger, reorganization, acquisition, joint venture, transfer, spin-off, transfer or sale or disposal of all or any part of our business, including in connection with any bankruptcy or similar proceedings, we may transfer any and provide all personal data to relevant third parties. We may also disclose personal data if we determine in good faith that disclosure is reasonably necessary to protect our rights and seek available remedies, enforce our terms and conditions, investigate fraud, or protect our operations or users.
Ⅲ. Legal compliance and security or protection of other rights
It may be necessary for us to disclose personal data in accordance with laws, legal procedures, litigation, and/or requirements of public and government authorities in and outside your country of residence. If we determine that disclosure is necessary or appropriate for the purposes of national security, law enforcement, or other issues of public importance, we may also disclose personal data.
children
Our products and services are for adults. Therefore, we do not knowingly collect, use, or disclose data from children under 16 years of age. If we learn that we have collected personal data of children under the age of 16, or according to the equivalent minimum age set by the jurisdiction, we will take steps to delete the data as soon as possible. If you find that a child under 16 has provided us with personal data, please contact us immediately.
Your rights
We take reasonable measures to ensure that your personal data is accurate, complete, and up-to-date. You have the right to access, correct, or delete the personal data we collect. You also have the right to restrict or object to the further processing of your personal data at any time. You have the right to receive your personal data in a structured and standard format. You can lodge a complaint with the data protection authority regarding the processing of your personal data. To protect the privacy and security of your personal data, we may ask you to provide data so that we can confirm your identity and the right to access such data, as well as search for and provide you with the personal data we maintain. In some cases, applicable laws or regulatory requirements allow or require us to refuse to provide or delete some or all of the personal data we maintain. You can contact us to exercise your rights. We will respond to your request within a reasonable time frame, in any case, it will not exceed 30 days.
Third-party websites and services
When a customer operates a link to a third-party website that has a relationship with us, we do not assume any obligation or responsibility for such a policy due to the privacy policy of the third party. Our websites, products, and services may contain links to third-party websites, products, and services, or your ability to access third-party websites, products, and services. We are not responsible for the privacy practices adopted by these third parties, nor are we responsible for the information or content contained in their products and services. This privacy statement only applies to the data we collect through our products and services. We encourage you to read the privacy policies of any third parties before continuing to use their websites, products, or services.
Data security, integrity, and retention
We use reasonable technical, management, and physical security measures to protect and help prevent unauthorized access to your data and to use the data we collect correctly. We will retain your personal data for as long as necessary to achieve the purposes outlined in this privacy statement unless a longer retention period is required or permitted by law.
Changes to this privacy statement
We may periodically change this privacy statement to keep up with new technologies, industry practices, regulatory requirements, and other reasons. If you continue to use our products and services after the effective date of the privacy statement, it means that you accept the revised privacy statement. If you do not agree with the revised privacy statement, please do not use our products or services and contact us to close any accounts you may have created.
contact us
If you have any questions about this privacy statement or its implementation, here is how you can reach us:hansellpatirica36@gmail.com